Facts about our City
0
Miles of Bike/Ped off street Trails
0
Median Single Family Home Sales Prices
About Me
I was born and raised in El Paso, TX, and moved to Colorado in 1992.  Although I always envisioned myself in law enforcement, I attended Metro State College and moved up quickly in management at TCI Cable.  I transitioned my career to Qwest/CenturyLink in 1998 and worked there for 15 years.  I held several management positions within the company.  Some of those positions include Operations, International Engineering, Network Design and Strategic & Tactical Engineering.  While working at CenturyLink, my wife and I opened our first business, Downtown Toys & Games.  We had a great time tending to our customers and giving back to our community.  The economy hit us in 2010 and we were unable to financially sustain the business.  In 2013, I moved to Sungard AS, which is a Global Disaster Recovery IT company, where I led several Team in Network and Vendor Management, which included profits & losses, developing executive and strategic business cases….
click here to read more.
About My Family
I met my beautiful wife and her son in 2002.  One year later we were married under one condition by my wife, I had to move to Arvada.  We lived several years next to the rest of our family in the Lake Arbor area.  In 2006, we moved to the Valley at Rainbow Ridge neighborhood in south central Arvada.  In 2007 we were blessed with identical twin boys (adding to the 5th generation Arvada family).  In 2019, we had a house built in Candelas where we currently reside.  Most of our family live in or around Arvada, which make it very convenient for family gatherings and taking care of each other when the need arises.  We love to host family and friend gatherings, especially around holidays.  We have our "Fifer Style" 4th of July bash, watching the city's fireworks display from our back yard, massive water slides and lots of food.  Halloween is a household recognized major holiday, the holiday takes months to prepare for…but it is all worth it when our family and friends heads out for trick or treat.  Santa Claus visits all the children in our family, singing songs, reading stories and giving pre-holiday gifts.
Why Me?
I will continue to uphold a high standard for all of our citizens, visitors and those who work in our community. I will continue to focus on future generations by ensuring strong and sustainable finances for the City. I will focus on improving our infrastructure and ensuring our resources.  I will encourage residents and businesses to be involved and stay active within each neighborhood.  Simple actions will improve the quality of life and foster a sense of community.  My passion will be working hard for strong local leadership and making thorough and sound financial decisions, while focusing on what is important to you, our families, neighbors and community.  If you would like to review my Candidate Announcement, please
click here
.  If you have any questions or comments, feel free to contact me at
[email protected]
or by cell at (303) 929-4278.
Future Goals
We must focus on items that impact us today and deliver on them!  We have spent too much time talking about issues like affordable housing, homelessness, our streets & traffic and fostering an inclusive community.  But it take us years to react, if we do anything!  These are today issues and we must start addressing them today with tangible results, so that future generations in our community are not dealing with items we simply ignored.
Goals & Achievements
Every great organizations needs leaders to set goals and celebrate their success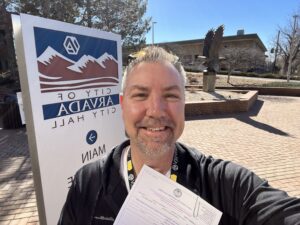 Over the years...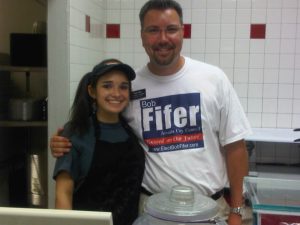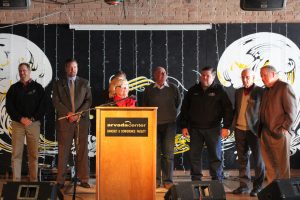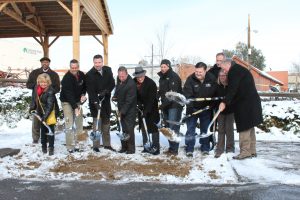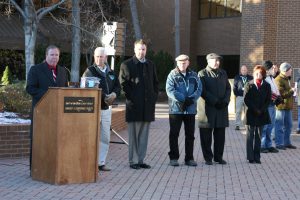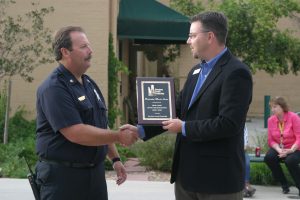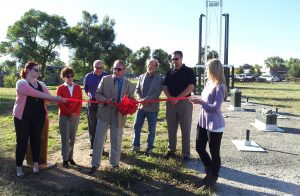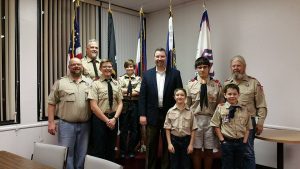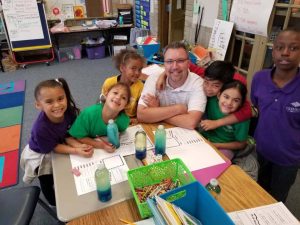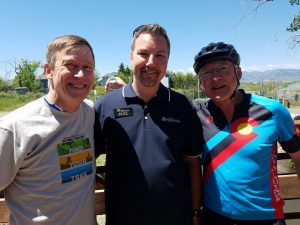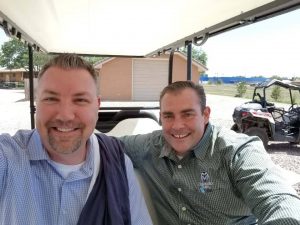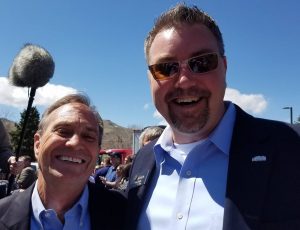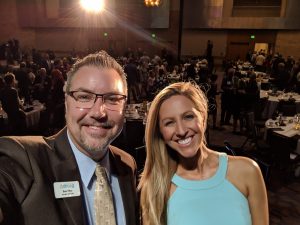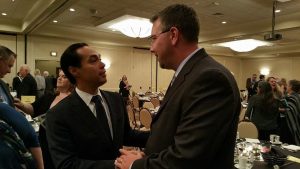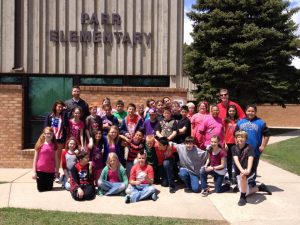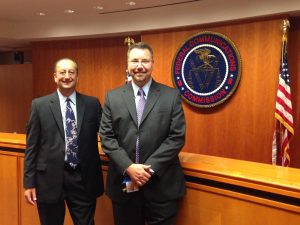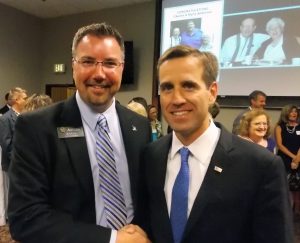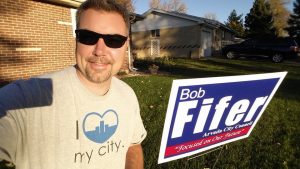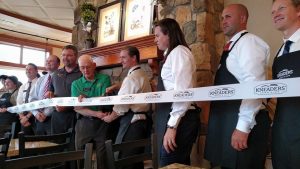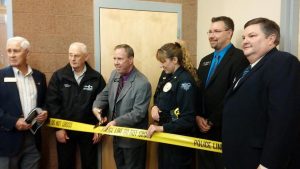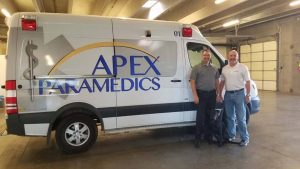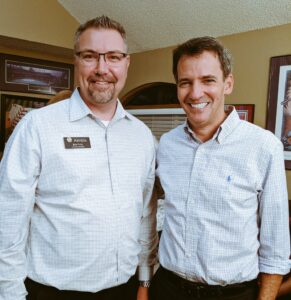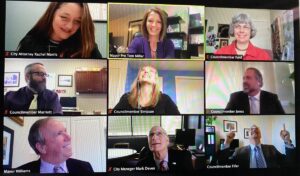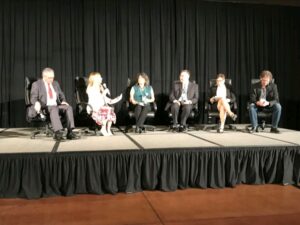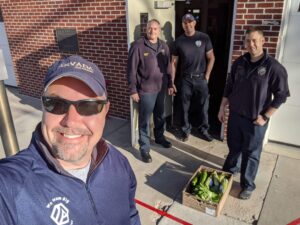 Goals Accomplished so far
Being on a Council is not a single person Team, but a Team of 7.  Over the last 12 years on Council, I have served with some of the best leaders in the Denver Region.  I could not accomplish these achievements without their support and the City Team to engage and deliver.
Over the last 12 years…
– We issued bonds for major infrastructure projects including, 72nd Avenue,  Ralston Road and sewer trunk lines improvements.
– First time in Arvada history, we have a female City Manager, City Attorney and Municipal Judge!
– We welcomed the G Line into Arvada!
– Continued focus on affordable and work force housing.
– Helped transition the Arvada Center into it's own non-profit.
– We implemented a Co-Responder with our Police Department which are mental health professionals who respond with our Police when their specialty is required. First in the State!
– Our unemployment rate has been under 3% for several years now, over 1,100 jobs were added in 2017 alone.
– Implemented the Olde Town Business Improvement District to continue the vibrancy of Olde Town and the surrounding communities.
– Our annual tax revenue increases over 3% year over year.
– AAA Bond rating sustained!
– Thoughtfully planned our growth with several updated comprehensive plans and annual strategic planning.
– We implemented FOCUS – a performance based budgeting / management of our City and it's employees. FOCUS is guided by strategic goals ("gold thread") set forth by City Council every few years.
– Advocated and supported the police expansion of Community Stations within our neighborhoods of Lake Arbor, West Woods and Whisper Creek.
– Updating our City fleet and tools to ensure we have the effective and efficient means to do the job you expect the City to do, when we need to do it.
– Increase funding on maintaining and repairing our roads. The majority of the roads are in poor condition. Since I have been elected, we have added an additional $10+ million to our Streets Budget to try to maintain the roads we have. (In actuality, we need $16 million every year just to catch up the repair and maintain them moving forward.)
– I been appointed to several Federal and Regional committees where I successfully advocated for local control matters. We must ensure that Federal and State legislatures do not adversely impact our community, which is lead by citizens (City Council) who live EVERYDAY in the community in which they serve.
I strongly believe in servant leadership, I want to serve my community, my neighbors and my family.  I want everyone to have a quality life that they expect, especially in the community they call "home".  I will continue to Focus on our Future, to ensure the betterment of Arvada, every day.

Getting Involved!
As your Councilmember, I spend many days and nights focusing on protecting our community's values and promoting the awesome things we do!
I always say, "if you are not at the dinner, you are the dinner". This holds true when we are discussing items that impact our community at regional, state and federal levels. I will continue representing our community with integrity, passion and accountability!
Supporters
I am very proud of having relationships to further our community's goals while working with my community, including those from regional to federal partners.
Service to our Community
Board of Directors for the Arvada Vitality Alliance – AVA (Vice President)
Former Board of Directors for the Arvada Community Food Bank (Vice President)
Serving as 2010 President of Historic Olde Town Arvada (HOTA)
Former member of Arvada-Jefferson Kiwanis
Being a member of Arvada Historical Society
Graduate of the Transit Alliance Citizen's Academy
Participant of Colorado's Future Through Civic Engagement
Recipient of the APEX Service Excellence Award
Umpiring & coaching youth baseball
Managing youth football teams
Ralston House .5k Endurance Challenge and volunteering committee
Helping at the Santa House – a program to assist families in need during Christmas
Working with the Arvada Police Department's Light Up the Holidays
Assisting with food drives and fund raising for the Arvada Community Food Bank
Participating in charity events to raise money for several local non-profit organizations that support Arvada citizens.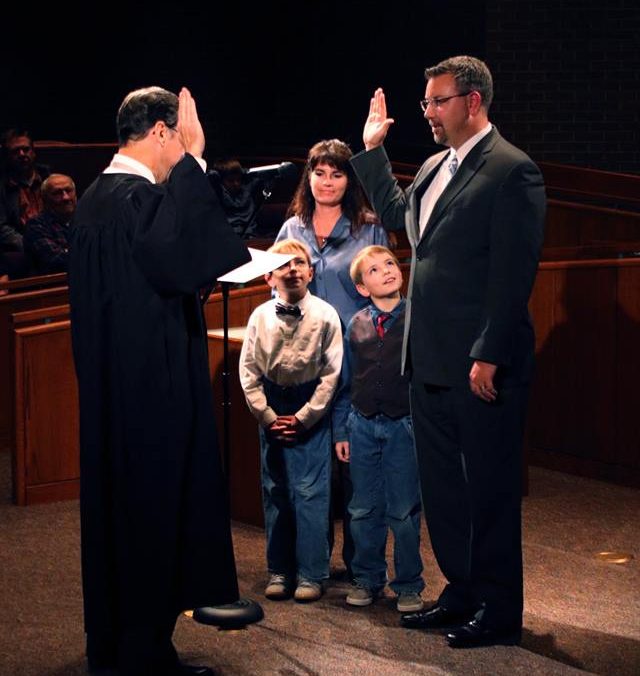 Service to our City
Arvada City Council | At-Large Councilmember, 2011 to present
Arvada City Council | Mayor Pro Tem 2015 to 2017
Denver Regional Council of Governments | Chair and Board Member, 2013 to present
Federal Communications Commission | Intergovernmental Advisory Committee Member, 2017 to 2020
Colorado FirstNet Governance Board | Vice Chair, 2013 to 2019
National League of Cities' Information Technology and Communications | Vice Chair, 2013 to 2018
National League of Cities' Hispanic Elected Local Officials Committee | Member, 2017 to 2020
Several City Committees:
Arvada Fire Protection District Coordinating Committee
APEX Parks and Recreation Coordination Committee
Arvada Municipal Court/Judicial Committee
Arvada Transportation Committee
Arvada Golf Advisory
Arvada Council for the Arts and Humanities
Jefferson County Schools Coordination Committee
Jefferson County Transportation Advisory and Action Committee (JEFFTAAG)
Adams County Economic Development Association